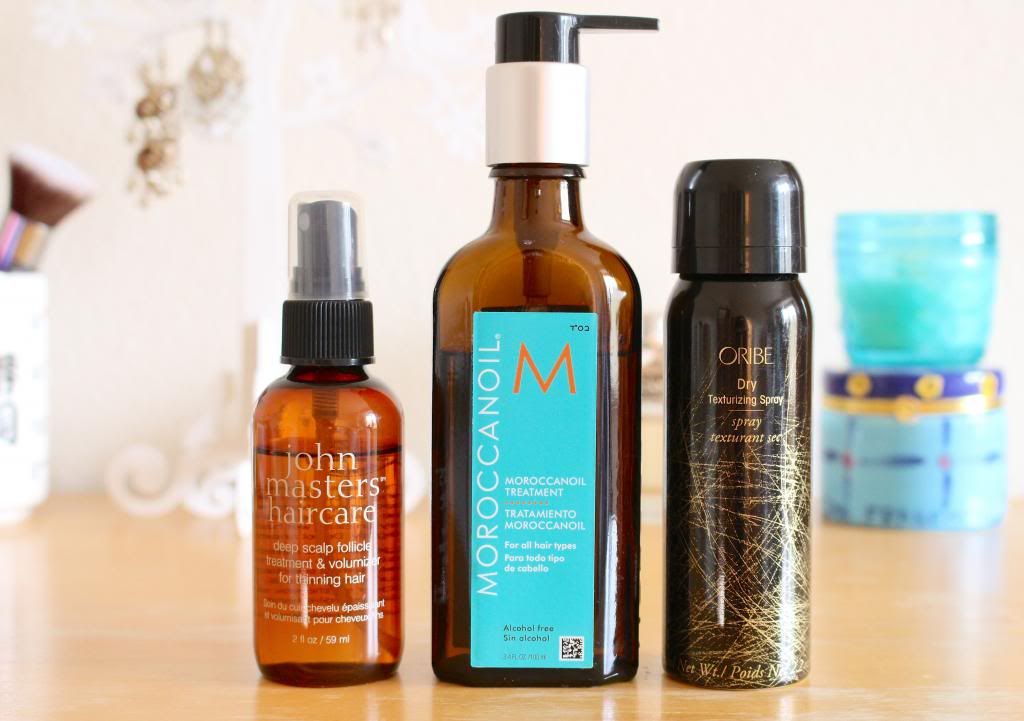 After vowing to cut my hair regularly after my last haircut (three months ago), I've fallen into my old, effortless long-hair habits. And my hair's been growing fast, in part because my current low-maintenance routine works in its favor. These days, I don't bother with the blowdryer or any styling tools, and besides shampooing and conditioning, there are just three products that I've been using on a regular basis to promote healthy hair growth.
After shampooing and conditioning my hair, I spritz the
John Masters Deep Scalp Follicle Treatment & Volumizer
throughout my roots and massage it into my scalp with my fingertips. This product contains a blend of 17 herbs and essential oils, including thyme (scalp stimulant), arnica (anti-inflammatory), and irish moss (detoxifying). It's meant for "thinning hair," and although my hair fortunately isn't thinning, it does shed, and I have periodically suffered from an irritated scalp. John Masters is a natural, organic brand, and so far every product I've tried from them is impressive. This one has a faint herbal fragrance that doesn't linger around. After that, I take one pump of
Moroccan Oil
, warm it up between the palms of my hand and smooth it through my hair from the the middle of the follicles to the tips. As long as I avoid my roots, this magic potion makes my hair so soft, shiny and healthy without weighing it down. It's expensive, but a little goes a long way, and I haven't found a cheaper alternative that feels as lightweight as this.
As I mentioned, I try to avoid blowdrying my hair as much as possible. Summer's a great time to give heat a rest, and when I avoided heat last year I noticed a huge improvement in the texture of my hair. The only con about letting my hair air-dry is that it can go a little limp afterwards. To add body back into my hair, I've been using the
Oribe Dry Texturizing Spray
. It gives my super-soft, slippery hair some extra hold and makes it easier to fluff up throughout the day or tie up in a loose chignon and let-be.
Of course, there are plenty of other factors involved in how fast your hair grows -- genetics and diet are two of the most important -- but I find that my super-simple routine with this trio of products encourages my hair to grow longer and stronger.