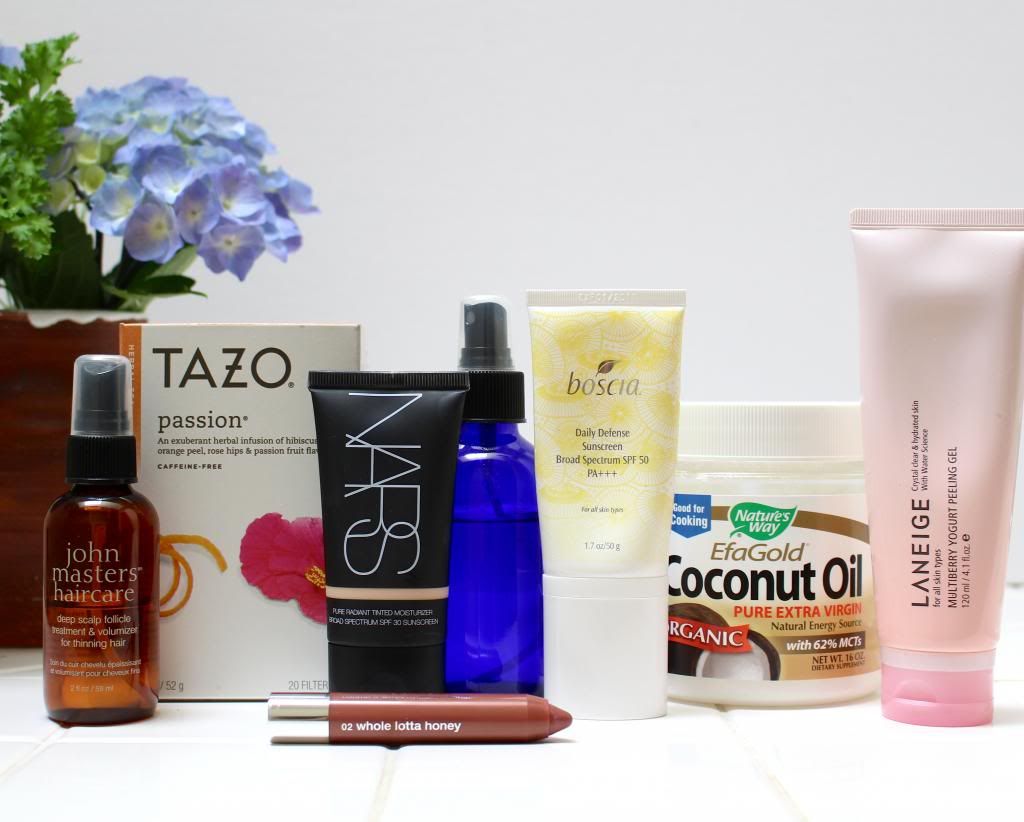 July was a perfectly laid-back, low-maintenance month for me, and although I didn't purchase a whole lot of new things, it was easy for me to pick out the products to include in this month's collection of favorites. I've tried and tested all of these for at least a few weeks, and all of them are potential repurchases. Also, this month I've tried to be more conscientious about the ingredients in what I consume, and while my beauty regimen is by no means all-natural, I've made a start with a couple of things featured here that are 100% healthy and effective.
If you're looking to grow your hair out, I highly recommend trying the
John Masters Deep Scalp Follicle Treatment & Volumizer
. I mentioned this product in a
recent haircare post
; it's basically a post-wash spray-on treatment containing herbs and essential oils that promote a healthy scalp and hair growth. My hair has been growing fast these days and I experience less fall-out when I wash my hair, and although I'm a little hesitant to attribute all this solely to this product, I do think it has made a difference.
These days I never leave the house without sunscreen on, and my favorite has been the
Boscia Daily Defense Sunscreen Broad Spectrum SPF 50 PA+++
. Boscia is a Japanese "natural" brand (I say this in quotation marks because they avoid a lot of bad ingredients like parabens, sulfates and phthalates, but they're not all-natural). This sunscreen contains a mixture of physical (titanium dioxide and zinc oxide) and chemical (octinoxate) UV blockers for a high level of protection. With this stuff at hand, I haven't gotten sunburned at all on my face, even after spending hours outside at a blueberry farm! The consistency is thick but not greasy, and although it isn't tinted, it doesn't leave much of a white cast if you rub it in well. There were quite a few days this month when I didn't wear makeup, but when I did, I found myself reaching for two products that give a very minimalistic, barely-there look. I already raved about the
NARS Pure Radiant Tinted Moisturizer
, my perfect everyday base with extra SPF. I've also been obsessed with the
Clinique Chubby Stick in "Whole Lotta Honey,"
a bronzy-pink nude that gives a my-lips-but-better effect.
To keep my pores clear I've been using my
DIY Toner
with witch hazel and tea tree oil every night; you can find the easy recipe
here
. Based on how well my skin has been cooperating, I think it's just as effective as benzoyl peroxide! I've also been applying a face mask once a week, and I rediscovered my
Laneige Multiberry Yogurt Peeling Gel
, which smells like strawberries and cream and leaves my skin incredibly soft.
I've been using coconut oil as an all-natural, intensive body moisturizer, especially when I shower at night and have time to let it sink in. Nature's Way EfaGold Coconut Oil is the one I've used for the last year and a half; it's reasonably priced and smells delicious. Just a little caveat: coconut oil is solid at normal room temperature, but when the weather is hot and room temperature is quite a bit warmer than usual, it might turn to liquid… and if you're not expecting this, it might spill all over your carpeted bedroom floor. Oopsies.
I read
an article
earlier this month that certain mainstream boxed teas contain high levels of pesticides, so I've been trying to drink organic teas whenever possible.
Tazo teas
are among my favorite, especially Peachy Green and Passion. Passion is especially good for if you have a sweet-sour craving!
What have you been loving this month? Natural product suggestions are very welcome!