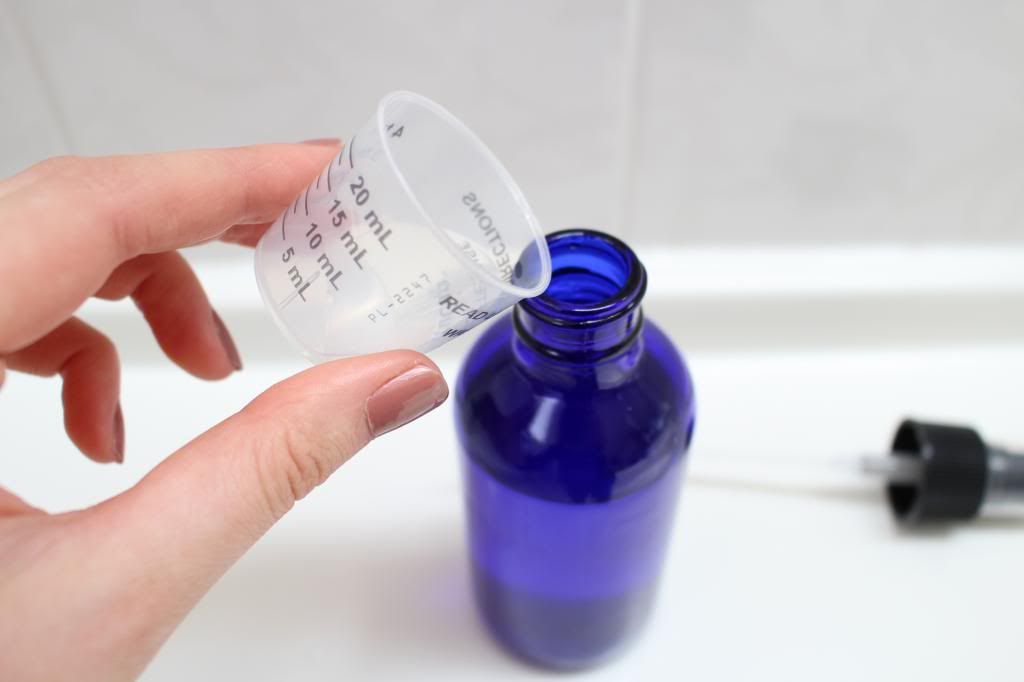 I've been wanting to mix up my own facial toner for a while now, something to spritz on morning and night that will keep my skin clear and tighten my pores. I decided to start with a safe and simple blend of two ingredients that I know my skin loves: witch hazel and tea tree oil. Both are anti-inflammatory, anti-viral, and excellent natural remedies for oily, congested or blemished skin. What I came up with is so easy that I feel a little silly calling it a DIY project... but still, it's a start that saves a few bucks and leaves my skin very happy.
I started with
Thayers Unscented Witch Hazel
, which is in itself a great toner. It contains purified water, aloe, glycerin, witch hazel extract, citric acid, grapefruit seed extract and vitamin E acetate. I noticed that the ingredients in this toner are
extremely
similar to those in LUSH's Tea Tree Water, so I decided to go from there and mix in my own tea tree oil. I did a bit of research to figure out exactly what proportions of tea tree oil to witch hazel toner would fight breakouts without being too harsh, and I decided to go with a solution of
no more than
5% tea tree oil. In a washed spritz bottle, I mixed 100ml of Thayers Unscented Witch Hazel with about 4ml of
tea tree oil
(I recommend starting with less if you have very sensitive skin... you can always add more!). Mine comes from the brand Tea Tree Therapy, but any good quality one will work. I closed the bottle tight, gave it a good shake and
voila
, ready for spritzing! I really think that when I use this before bedtime I wake up with smoother, calmed skin.
The great thing about mixing this toner yourself is that in the long run, it's much cheaper than one of my favorite toners, LUSH Tea Tree Water. I paid full price for both the bottle of witch hazel ($10) and the bottle of tea tree oil ($10). For about 100ml of toner, I used about 1/3 of the witch hazel ($3.33) and 1/6 of the tea tree oil ($1.66). That means a 100ml bottle of this toner costs no more than $5 to make, which is half the price of the LUSH tea tree water.
Have you tried any DIY skincare? Did it work?